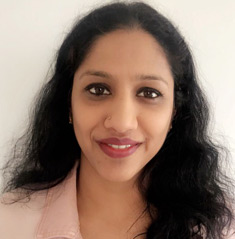 Ms. Aruna Balupalli
President, Infer Solutions, Inc.
Ms. Aruna Balupalli is the President of Infer Solutions, Inc. She is one of the founder of Infer Solutions, Inc. in 2002 with a vision of making a world class IT enterprise. She has transformed the vision into building a dynamic enterprise with strong and consistent growth over a period of 15 years.
MS. Balupalli has done her Masters in Computer Science from FTU University, California.
Ms. Balupalli is fully committed to the philosophy and future development of the company and has been able to attract a number of talented individuals to join her on board. She is a true visionary with an unyielding focus on building strong customer relationships and providing exceptional quality. She possesses appropriate leadership quality for the continuing success and growth of the company.
Mr.Thiru R Bujala
Vice President, Infer Solutions, Inc
Thiru R Bujala is a Certified Project Management Professional (PMP), holds BS in Computer Science and MBA in Information Systems Management.
Vice President and founder of Infer Solutions, Inc. an IT development and consulting company with primary focus on product development in Life Sciences industry. He has been Speaker on EVMS and Agile integration for software development at Florida Govt Conference 2005 seminar in Tallahassee, FL. Published articles on Earned Value and Agile Development in PMI publications.
Responsibilities include
Setting Corporate Vision
Client Relationships
Professional Networking
New Ideas for Product Development in Technology
He is a SAP ERP Systems Architect since 1996 with expertise in Vistex, SAP BW, BO, HANA, ECC 6 in the areas of Sales & Distribution, PLM, Financials, Warehouse Management (IM/WM, EWM), Materials Management and Project Systems.