Infer Solutions Ranks No. 1731 on the 2022 Inc. 5000 Annual List
Princeton, NJ. – August 9, 2022
(https://www.inc.com/profile/infer-solutions)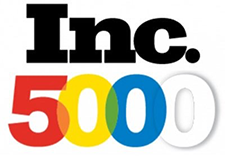 Inc. revealed that Infer Solutions is No. 1731 on its annual Inc. 5000 list, the most prestigious ranking of the fastest-growing private companies in America. Infer Solutions is ranked 52 in New Jersey, 235 in nation wide software industry and 4th place in trenton, NJ region.
The list represents a one-of-a-kind look at the most successful companies within the economy's most dynamic segment – its independent businesses. Facebook, Chobani, Under Armour, Microsoft, Patagonia, and many other well-known names gained their first national exposure as honorees on the Inc. 5000.
As Thiru Bujala, the CEO of Infer states "Infer is an incredibly resilient, adaptable, innovative, and agile organization able to navigate and succeed in a variety of economic climates and industries. Our technology expertize enables us to address a wide range of enterprise needs which gives us the upper hand against many of our competitors."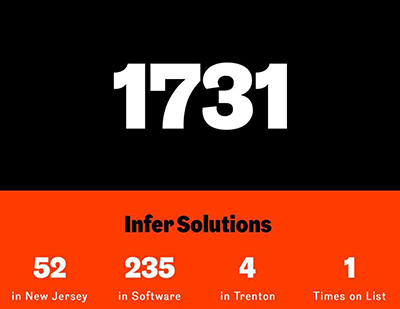 The companies on the 2022 Inc. 5000 have not only been successful, but have also demonstrated resilience amid supply chain woes, labor shortages, and the ongoing impact of COVID-19.
Complete results of the Inc. 5000, including company profiles and an interactive database that can be sorted by industry, region, and other criteria, can be found at http://www.inc.com/inc5000
"The accomplishment of building one of the fastest growing companies in the U.S., in light of recent economic roadblocks, cannot be overstated," says Scott Omelianuk, editor in chief of Inc. "Inc. is thrilled to honor the companies that have established themselves through innovation, hard work, and rising to the challenges of today."
Infer Solutions, Inc is a leading-edge software development and consulting corporation. Faced with constrained budgets and ever-changing business requirements, I.T. organizations find it increasingly difficult to deliver strategic value to their business constituents. This is especially true on projects that require custom application development and enterprise integration. Infer provides agile-minded with the capabilities, best practices, and services that are essential to delivering business value – and to maximizing the value of their I.T. investments. Our service offerings are rooted in our focus on system quality and shorter delivery schedules for high-value functionality. This focus directly reduces our clients' overall costs and enables them to realize value earlier. Infer Solutions is a
CMMI Level 3 Appraised
SBA 8a Certified
GSA Stars III Certified
GSA IT 70 Certified
ISO 9001:2015 Certified Company
Infer Solutions, Inc awarded with GSA IT 70 Contract!!!
Princeton, NJ. – October 21. 2021
Infer Solutions, Inc today announced that the organization has been awarded the GSA IT 70 (MAS-IDIQ) contract by U.S. General Service Administration (GSA).
The GSA Multiple Award Schedule (MAS), a purchasing vehicle made available to all government agencies, streamlines the purchasing process with per-negotiated pricing. This allows for timely and convenient access to Infer's services and training.
Infer has focused on solving the federal government's most critical program management challenges and has partnered with dozens of federal agencies. Since its inception in 2002, Infer has supported the Dept of Defense and NIH just to name a few, with implementing Information technology services in ERP and Client/Server applications.
Contractor Information
Business Size: SBA Small Business
Contract No.: 47QTCA22D0010
DUNS Number: 606694334
Ordering Information
To place an order, visit https://www.gsaadvantage.gov/
Infer Solutions, Inc awarded with GSA STARS III Contract.
Princeton, NJ. – July 2, 2021
Infer Solutions, Inc today announced that the organization has been awarded the STARS III (MA-IDIQ) contract by U.S. General Service Administration (GSA).
The 8(a) Streamlined Technology Acquisition Resource for Services (STARS) III Governmentwide Acquisition Contract (GWAC) – a/k/a "STARS III", is a Multiple Award, Indefinite-Delivery, Indefinite-Quantity (MA-IDIQ) contract to provide information technology (IT) services and IT services-based solutions which may include the integration of ancillary support which is necessary and integral to the IT services being acquired.
8(a) STARS III represents GSA's efforts to support small businesses while meeting ever-evolving agency requirements. The enhancements on this iteration of the STARS GWAC focus on meeting agency needs for emerging technologies such as artificial intelligence, blockchain, robotic process automation, and more.
The STARS III contract has a ceiling of $50 billion.
For more information on the contract, please click the link below.
https://www.gsa.gov/technology/technology-purchasing-programs/governmentwide-acquisition-contracts/8a-stars-iii/8a-stars-iii-industry-partners
Infer Awarded with CMMI Level 3 Appraisal
Princeton, NJ. – October 18, 2019
Infer Solutions, Inc today announced that the organization has been appraised at level three of the CMMI Institute's Capability Maturity Model Integration (CMMI)®. CMMI is a capability improvement framework that provides organizations with the essential elements of effective processes that ultimately improve their performance and the support of their customers.
Achieving a CMMI level 3 designation demonstrates that Infers' performance and execution are based on standards, procedures, tools, and methods that are well-defined, understood, and improved over time and establishes the company's full commitment to high-level process improvements that assure the delivery of superior solutions to their customers.
"We are proud of Infer's level 3 CMMI appraisal and, as a result, the recognition that our continued hard work, has received," said Thiru Bujala, Vice President, Infer Solutions, Inc. "This maturity level is a competitive differentiator and is consistent with Infer's culture of continuous improvement and commitment to excellence."
CMMI is a world-class performance improvement model for competitive organizations that want to achieve high-performance operations.
Infer is now ISO 9001:2015 Certified Quality Assurance Company
November 28, 2018
Infer Solutions, Inc. is committed to be the leading technology integrator, providing comprehensive Information technology application development and consulting services by
Delivering high-quality cost-effective solutions by transforming our knowledge into value for the benefit of our customers and our stakeholders.
Involving all associates in an effort to continually improve the value of products, processes, and services. This added value will be realized through ongoing commitment to the training and development of Infer Solutions, Inc. greatest resource, its people, and by enhancing the processes and technology used, on an on-going basis.
Enabling all associates to build strong partnerships with external and internal customers. These partnerships will enhance the quality of Infer Solutions, Inc. products and services, and the long-term profitability and growth of Infer Solutions, Inc., and its valued customers.
Infer Solutions Inc is now SBA 8(a)certified small business company !!
July 2, 2018
Infer Solutions, Inc has been awarded SBA 8(a) Certification from US Government Small Business Administration (SBA).
SBA partners with federal agencies to promote maximum utilization of 8(a) program participants to ensure equitable access to contracting opportunities in the federal marketplace. Once certified, 8(a) program participants are eligible to receive federal contracting preferences and receive training and technical assistance designed to strengthen their ability to compete effectively in the American economy.
For more information on SBA 8(a) program, please visit
https://www.sba.gov/federal-contracting/contracting-assistance-programs/8a-business-development-program